Hi all! How is everything? Today's class is quieter. It's for those who have never practiced yoga in their lives or for those who
want to take a class a little quieter, okay? In today's class, we will work on the
body as a whole. There will be several postures for you to be able to train and
evolve in practice, to have more ease in more advanced postures too and at the
end of the video, you will see all the postures that
we did in class, or some of them, with the benefits of each one And this will be
cool for you to understand a little more yoga too.
For you to see what are the benefits of each posture and what they bring good to you.
Also don't forget to look at the contraindications down here in the description. So, you can understand a little more about the posture too. Don't
forget to subscribe here on the channel, like and share with your friends, so you
can take classes together and enjoy this moment, okay? So
that's it folks. Come on! We're going to start today
with the legs crossed, whichever way is most comfortable for you with one foot in
front of the other or the legs crossed even in the lotus posture Whatever is best,
okay? If you think that this is not comfortable, that you don't have your
spine stretched, you can put a pad or a
pillow in the back, so you can sit better, okay? You also have the option of
placing blocks here, on the side of the knee, so you feel a little more
comfortable.
The important thing is to leave your spine well
stretched and in a very comfortable position for you. So, we start by closing our eyes, the palms of our hands are facing up and our
hands are on the knee And, here, at this moment, we will inhale
and raise our shoulders close to our ears. Expired, throw them back and
down. Breathing is done entirely through the nose. We inhale, lift our shoulders
close to our ears and Exhale…shoulders back and down At this moment, we calm our body, calming our mind, bringing it to the present moment…here and now.
.. and inhaling and exhaling through the nose. I'm going to ask you to open your eyes
slowly. We're going to start a practice of Pranayama, which are
breathing exercises, okay? In the practice of yoga it is super important for us to work on our
breathing. Pranayama exists during the entire practice, right? but we can do specific exercises for that, to train us to
breathe better Normally, in our daily lives,
we use very little our breathing , our lung capacity.
So, when we do these breathing exercises , we
can take this into our lives, and we start to breathe much better, using our lung capacity much more and breathing much better, okay? So, this benefits our body as a whole, our mind and
energizes, right? So let's go! First, we
're going to do full breathing, okay? The name of this exercise is 'complete breathing'. We'll go first, take our navel forward,
okay? Start with abdominal breathing. After abdominal exhalation, we go
to rib breathing They will expand And finally, we inflate our chest, which is the breathing we normally do, in our daily lives, which is 'chest breathing' . What are we going to do?
The exercise is in parts: abdomen, ribs and chest and then inhale,
chest, ribs and abdomen , we will train each part separately, to be more understandable A good tip is for you to
put your hands here, in front of the abdomen with
the middle fingers together, ok?… one touching the other. And, here at this moment, we're going to inspire and we're going to throw the belly button forward.
Don't be afraid to create a belly. Create a belly like this, ok? We inhale, take in air and throw the navel forward. At that moment, you will feel that
your desires are going to move away, oh naturally You breathe in and when your navel goes forward, your fingers move away At that moment, when you feel your fingers are moving away, train one more a little. inhaling and exhaling, pushing your abdomen
forward and exhaling, throw your navel inwards, moving towards the spine. Takes out all the air Throw the abdomen forward and exhale and come back Later, when you think
you're understanding this movement well, and your fingers are already moving away,
Sometimes the fingers don't move away right away, okay? This is normal. You can also do this breathing lying down, as this helps a lot to understand the movement. Put your back
on the floor and do the same movement, with your knees bent, okay? At some point,
you'll feel like you're taking control of your abdomen; to play forward and back.
Then you will feel your fingers expand. It's training. After that, we go to the ribs. The ribs go to the sides. So, we're going to expand laterally. We
also join with the fingers here in the front, ok? and here at that moment, we will
inhale and observe that the ribs have gone to the side, ok? That's the exercise. He inhaled, his ribs opened naturally, and his fingers parted as well. Fine? So that's what we're going to do. And lastly, it's the chest. There's not much mystery, it's the breathing that we
normally do. So, we inhale through the chest, let it out. The chest rises. So
basically the full breath is going to do this movement here, oh…
I'll show you. Take it easy, okay? It's not inhaling fast, nor exhaling fast. It's your time, slowly. Make a count. Calm down. Gradually increase the space of your count, ok? So you can breathe for a longer period. OK? inhaling and exhaling you inhale and exhale inhale… abdomen rib and chest and exhale, chest rib and abdomen we will do it one more time. Inhale, abdomen…throw it forward rib…expand chest…grow exhale… chest relax…rib relax…and abdomen take your bellybutton there towards your spine, inwards You can open your eyes slowly.
That's the full breath, okay? You can train as long as you need. Now we're going to come back with our eyes closed. Breathe in deeply through your nose, feel the air entering your nostrils, passing
behind your throat, filling your chest, and exhale, take all the air out of your chest, feel it passing behind your throat, leaving your nostrils.
Put your hands together in front of your chest, create an
intention for this class. What do you expect from her or who do you dedicate her to Brings her forehead towards her fingers. You can open your eyes slowly. We'll start right here, okay? So, first of all, we're going to take our arms
and stretch them up there. Cross your fingers and throw your palms out there. Feel your entire spine stretch and lengthen. look at your hands up there. If looking at your hands is uncomfortable for your neck, leave it straight, just stretch your entire spine, inhale and exhale and go down on exhalation cross your hands back here… oh… I'll do it here facing you crossed Pull back. Open your chest, throw your head back.
Inhale and exhale through the nose. Try to keep
that breath activated. and come back Put your right hand on the floor, look, on the right side and stretch your
left arm up there. Look at the hand that is up there. Inhale and exhale… if you
can go further, put your forearm on the floor and stretch it up there. Inhale and exhale, and come back and go to the other side. You can stay up here stretching or go down with your forearm. The
important thing is that your hips are in contact with the floor. Fine? You can't take your hips off the floor Inhale and exhale… and come back We go to 4 supports. So, here at 4 supports, we align the shoulders with the hands and the hips with the
knees. If your knees are hurting, put a blanket underneath, to be more comfortable for you.
So here,
we're going to inhale, look ahead, throw the navel down, open the chest Exhale, take the
head towards the hip and push the floor. Inhale, open your chest, draw in air, throw
your belly button down, exhale, head towards your hips, push the floor Again, inhale, open your chest, Exhale, head towards your hips. Curve the spine a lot and come back Here, now, we're going to do a
movement along with the breath.
So, we will inhale, open the
chest, exhale, go down towards your hip Throw the hip to the right side, open the chest, we will do a rotation, synchronize the movement You can do the movement the way you want comfortable for you Can go one way and the
other. It wakes up your whole body, but every time you throw your
head in, do it on exhalation. When you go up, it's on inspiration. So, that's all.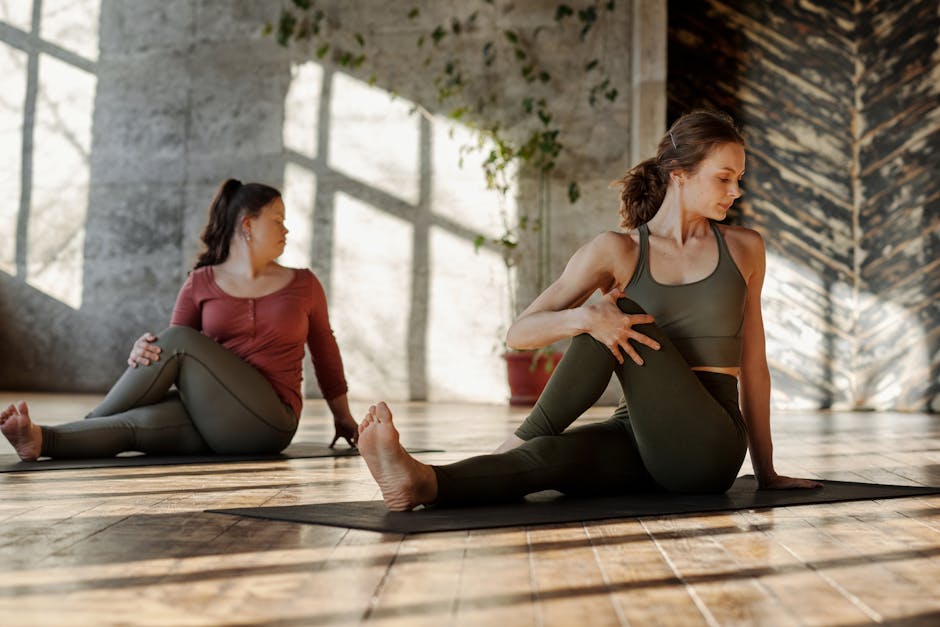 Inhale, open your chest. Exhale, release Inhale, open…exhale, release And rotate to both sides, right? When you've done one, flip the other side too. It's good for you to wake up your whole
body And here, we're going to go down with our
hands in front and go down the trunk. You can put your hands outstretched (spine straight) or you can put your forearm on the
floor and your head on the floor Or, if you can go further, you can
try putting your chest on the floor, or just your chin on the floor, with the intention to put your chest.
If you already have the flexibility to do that,
okay? You can also use a block in the front,
so you can stretch your forearm and let your spine stretch So keep yourself here stretching your whole body, your whole spine, your hip is up there
looking at the sky This is good training for the
'Dog looking down', to create the intention of throwing hips towards the sky. If you can go further, you can go to 'Dog looking down'. So you push off the floor
and throw your hips up to the sky You can get your knees bent.
The intention is to drop your heel to the floor and move your shoulders away from your ears. Keep your gaze fixed between your feet or between your knees.
You stretch here a little bit. Open your fingers a lot. Just throw your hip from the sky. and come back with your knee on the floor. Now we're going to climb on our heels and move our feet forward, okay? Then, we will stretch the
right leg on the floor We place the sole of the left foot on the inner part of the thigh Inhale, raise the arms and exhale, go down towards the foot Inhale, elevate exhale, descend Inhale and exhale Take your time . The important thing is that you keep your spine straight. If you think this is too much, you can stop here. The important thing is that
you keep your spine straight. Come back slowly. Changed legs. Plant of the right foot on the
inner part of the left thigh. Inhale… and exhale, go down, inhale, stretch and exhale, go down. Keep your
eyes on your big toe and your spine is stretched, okay? Your hips are in line And, come back unrolling slowly Here, now
, we're going to lie with our backs on the floor and we're going to stretch our legs up there.
With the legs up there, we are training possible inversions (at this moment of leaving the leg facing up, ok?) So, here we
leave the leg straight (if you think this is possible for you). If you
have a bent leg, we will train you to stretch your legs. So, we leave our hands here at the side. We stretch the right leg and
bend the left leg. Stretch your left leg and bend your right leg, and do
this movement (alternating) here, always remembering to try to take your foot to
heaven.
Put your foot in the sky. Then, inhale and exhale, do this movement. Gradually, you're gaining that flexibility back there, and at the same time, you're working on your abs. Contract it here, O Very good! Here now, you're going to let your feet touch the floor, your knees bent, make sure your heels are in contact with your hands, and we're going to
create the intention to shift our weight over to our legs. So, we throw the
weight of the leg, raise the hip, throw the shoulders to the floor. If it is difficult to support yourself here, you can, with the help of your hands, hold yourself
below 'the hips', ok? Put a pad down here, some book, something that
can support your hip.
Remembering that the important thing is to throw your
shoulder there to the floor. Throw your shoulder to the floor! Open the chest! Create the intention to throw your
abdomen to the sky, inhale and exhale Slowly descend. Here now, we are going to
stretch the right leg, bend the left leg and pull it close to the chest. Pull it close to the chest If you can throw your leg a little
more to the side, pull it inside, look, hold your
hand inside your foot and pull it outside 'to the side of your torso', trying to take your knee there floor.
Inhale and exhale. If not possible, keep it here (on top of the trunk). Changed, exhaled, inhales, pulls the right leg. inhale and exhale Keep the left leg straight If possible, hold it inside 'the right foot' and
throw 'the knee' towards the floor. Feel like you're stretching your entire
leg. Inhale and exhale If not possible,
stay here, wherever you can. Bend and hug both legs. He turned to the right side, legs together and
looks at his left hand. inhale and exhale Return to the center sky. Switch sides…
inhale exhale The important thing is to keep your shoulders in
contact with the floor. If you can't get your knee to the floor, no problem. You can leave it where it is The important thing is that you create this intention
of leaving your shoulders on the ground. Hug the legs bent in the center again And, we're going to
finish with this posture, we're going to bring the soles of the feet together, open the legs.
It's a hip opening training. Stretch your hands at your sides,
open your chest, throw your shoulders down. If this is not comfortable for you, you
can put blocks next to your knees You can put a towel
rolled up here on your spine or bolster (these are Yoga accessories, which can help in this posture), pillows too You, at that moment, will inhale deeply and exhale Feel the air entering your nostrils and
leaving. Inhale and exhale Feel that your knees are
floating. They are light that this movement
they are doing is not weighing you down, it is being a calm movement, a light movement Checks if any part of her face
is tense and relaxes she Breathes in and out deeply You can close your legs slowly and stretch them with feet apart And, you are now
in Savasana, which is the final pose of our practice, legs apart, arms are
kept along the body The whole body is stretched, keep your focus on your
breath, inhaling and exhaling deeply and you You can stay here as
long as you need.
You can put a meditation that you have here on the channel too, or some music that you like, for you to completely relax, but keep your focus on your breathing. Any thought that comes, let it
come and let it go, in the moment, you bring your focus to your breath. Become aware that when you think you don't have to
think about something, you are already thinking. I don't focus on that. Let's change focus. If something comes to your mind, take the focus to your breath When you feel ready, move your
fingers and toes, to wake up in the body. Bring your legs together and
take them to the right side, Lie down in the fetal position, bringing your whole body to the right side, as if you were spooning.
Inhale and exhale deeply And, with the help of your left hand, push your body up
and return to sitting in the lotus posture, cross-legged or whatever is most
comfortable for you, palms facing up. Rotate your shoulders up, back and down, open your chest. Feel the energy that is passing through your
body right now. Put your palms together in front of your chest,
remember your intention at the beginning of the class. It brings a smile on your face, it can be an open smile or a light smile, for you to smile for life, for you to smile
for your days, for the universe.
Bring the thought of gratitude into your
mind Bring your head towards your fingers as a sign of respect and thanks. Open your eyes slowly and Namaste Thank you so much for watching, for
taking this class with me. I am very happy to have you here. We are now showing all the postures, with their benefits, for you to have a
little more knowledge and see what the benefits were during this class.
There are contraindications down here too, in case you want to see. Don't forget to like the video, share , follow me on Instagram @fernandayoga, so you can see several different postures and challenge yourself more and more. And, subscribe here on the channel, right people? Please sign up there to help us, in this world of yoga, to spread the word… so we can work
together on this! And so, you don't miss the videos that we
will post on the channel. There's a lot of good stuff coming out there. That's it. A kiss. To the next!.